About Us
PARTIES
Looking for a professional children's entertainer that can entertain kids of all ages? Then look no further. Tulsa Balloons was voted Tulsa Best Entertainer 2015 by Tulsa Kids Magazine! Birthdays are our specialty! Birthday parties are unique with "Dustin the Balloon Guy" and his wife "Angela The Balloon Twisting, Face Painting Lady." Like magic, Dustin will twist a 3 foot balloon into the coolest balloon creations you have ever seen while entertaining the audience with silly slapstick, jokes, and improvisation humor. Children's birthday party should be fun for everyone! This show is entertaining to the whole audience, young and old. So don't worry about the adults being bored, they will be entertained just as much as the kids. Will arrive with a HUGE (5-6 ft) balloon creation of the birthday child's favorite character. Every child will get a balloon and if the party is small and time remains, then each child can receive a second balloon animal. I recommend for most birthday parties, estimate 1 hour for each 10-15 children.
---
ROVING ARTIST SHOWS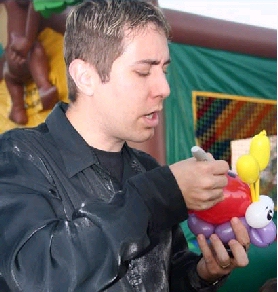 Invite top-notch artists to your event and watch them create memorable artwork using only color and air. Our specialists gently mix and mingle while adorning your guests with fun and fancy artwork. All sculptures are customizable, from detailed balloon-jewelry to favorite characters to outrageous costumes. Each fabulous creation is a perfect photo-op and memory of your affair. Nothing brings a party to life like our balloons! Our artists have been special guests at movie premiers, Circus Circus of Las Vegas, Tulsa Drillers, Oklahoma Aquarium, Naka-Kon, Tulsa State Fair, Tulsa Library Summer Reading Program, product launches, and private functions for companies of all sizes.
---
Event Decor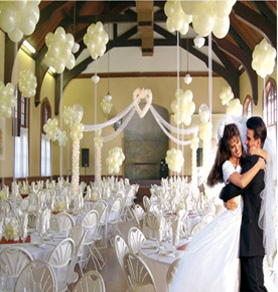 Balloon Decor & So Much More Tulsa Balloons provides balloon decor for all occasions including Bridal Showers, Bachelor and Bachelorette Parties, Weddings, Bar/Bat Mitzvahs, Corporate Events and Birthday Parties. We can decorate your events with beautiful Balloon bouquets, Sculptures, Centerpieces, Arches, Columns and much more. We invite you to browse our site for ideas to see what balloons can do to add that extra something to an otherwise ordinary room. We can recreate any design you see on our website or we can produce a custom creation that will be just right for you to match and enhance your existing room.
---
STAGE SHOWS
We will entertain your guests with original balloon effects and amazing artistry. Imagine dazzling performers who climb inside giant balloons, twist balloons while blindfolded, and even twist balloons with just one hand. See all that and more during one of our amazing Balloon Stage Shows. We have several different shows, below is a clip of the Tulsa Public library Show, for their "Catch the Reading Bug Summer Reading Program" We offer everything from Magic, Juggling, Puppet Shows, Science Magic Shows, And more! Call today and let us put together a special show for your group.
---
WORKSHOPS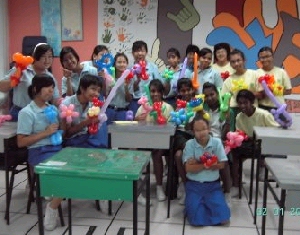 Our balloon experts will enable your group to find their inherent creativity by using the most flexible of tools of all, colorful balloons. These fun workshops will not only leave your group with new party skills, but more importantly, with creative-thinking skills that apply to life and business. We have entertained and inspired at several schools and companies. Angela has a background in Human Resources and has written employee training manuals as well as taught management classes on how to effectively motivate employees, Team Building , and Time and Stress Management. She takes all her past experience and combines it with a great stage show your group is sure to enjoy as well as learn a few valuable skills!