Restaurant Entertainment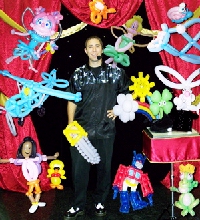 Wanna Gain an Edge Over Your Competitors?
Then hire Dustin "The Balloon Guy" and Angela "The Balloon Twisting Face Painting Lady" for your next event like Kid's Night Parties, Private Events, or just for weekend entertainment.
Your patrons will all enjoy their own brand of comedic balloon entertainment. They are experienced entertainers used to working in busy environments. Your business gains an edge by offering something novel, helping to keep regular customers happy while attracting new ones.
Some of their restaurant references include: Casa Bonita, Monterey's, El Chico's, South of the Border, Texas Roadhouse, Abuelo's, and more.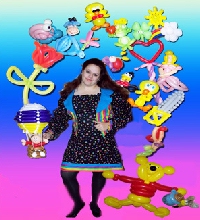 More Benefits
Customers will feel they are getting something extra and will tell others. Kid's love balloons, and influence their parent's choice of where to eat. Customers waiting for a table will be entertained and remain more patient. Table-side entertainment decreases percieved wait-time if there are kitchen delays.