Testimonials
A Few of Our Happy Clients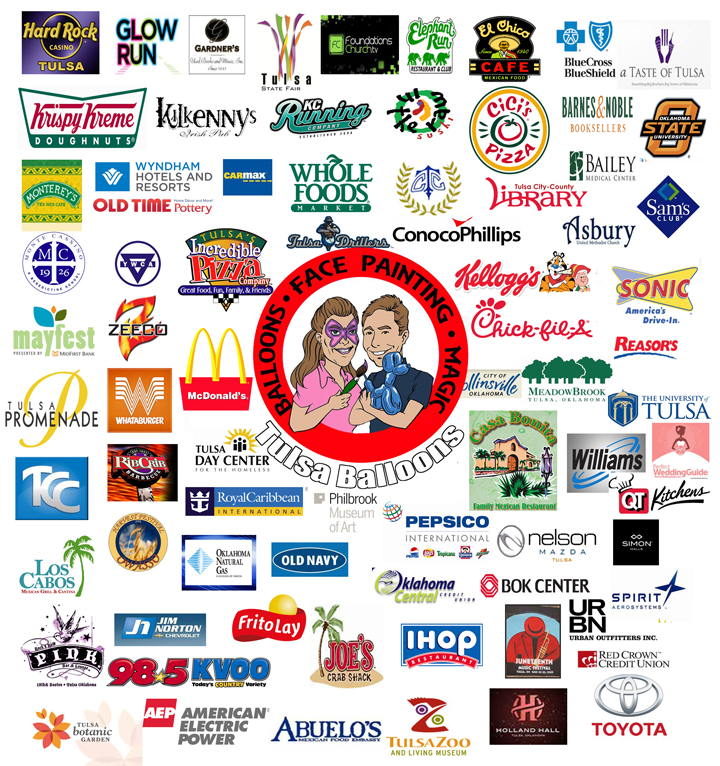 "Dear Dustin, I want to thank you for such a fabulous performance and incredible balloon art you made for the children at Gilcrease Museums's first Art Blast Saturday. You Exceeded my expectations ten fold. I was so impressed with how you spoke to the children and their parents, your speed in creating the balloons and your generosity in continuing to create some balloons for late comers who were so desperate for a balloon creature of their own. Thank you again. You are the one we're coming to when we need balloon art and entertainment."
~Sarah Wright Education Assistant Gilcrease Museum
"Dustin Reudelhuber is a great addition to our establishment. He helps to cut down on our wait time and keeps the parents and children smiling! Children and adults frequent us because of his talents. If you are considering Dustin I highly recommend him for all your entertainment needs."
~Kevin Dang Lone Star Steakhouse
"Dear Dustin, The Shawnee Tribe would like to thank you for all your assistance in making our childrens' fair such a success. We heard from many participants regarding how much they enjoyed you. Without your participation we would have not have been able to put together such a memorable event. Again, Thank you!!
"
Sincerely, Tena Booth Diana Baker & Jana Mattison Shawnee Tribe CCDF Staff
"Dear Mr. Reudelhuber, ChildSpree was a resounding success! We want to thank you for your contributions to this event , and for partnering with Mervyn's to make an event like this possible for our community. Words are not adequate to describe the excitement, surprise and gratitude expressed by the children who attended this back to school event. Not only did they come away many new items for school, but a wonderful experience and a boost of self-esteem and confidence. Thank you again for making our community a better place to live and work, and for all you do."
Sincerely, Carla Harney Assistant Manager Community Relations
"I remember Naka-Kon's first year. I walked into the hotel and saw Naka-Kon spelled out in balloons. I also remember one year they had a Mario Kart with Mario made out of balloons. Naka-Kon is much more than balloons and balloon art, but to me it sums up Naka-Kon. They are amazing what they can do with balloons and really entertaining at the same time! Awesome Show! Naka-Kon is a wonderful anime convention, but they elevate it up a notch to a true anime festival."
~Naka-Kon Fan Web Post
Other happy clients include:
Royal Caribbean Cruise Lines
Incredible Pizza
Mayor Kathy Taylor,
Senator John Sullivan,
Brush Creek Youth Ranch,
Battle Creek,
Forrest Ridge,
Several Local Restaurants, schools and churches,
AMC Theaters,
P.S.O.,
KOTV Channel 6,
Naka - Kon Anime Convention